Barbados horseback riding is an activity available to locals and visitors to the island. If you love horses, I am sure you will enjoy seeing the beauty of Barbados on horseback. The island has a variety of choices for those who may have a preference. Some horse tours will take you along the beach while others take you into the countryside. It is possible to do both, so plan your trip accordingly if you want to see this island from the back of a horse. Today we will be looking at the best horseback riding choices offered, so follow along for a good ole fashioned Bajan update.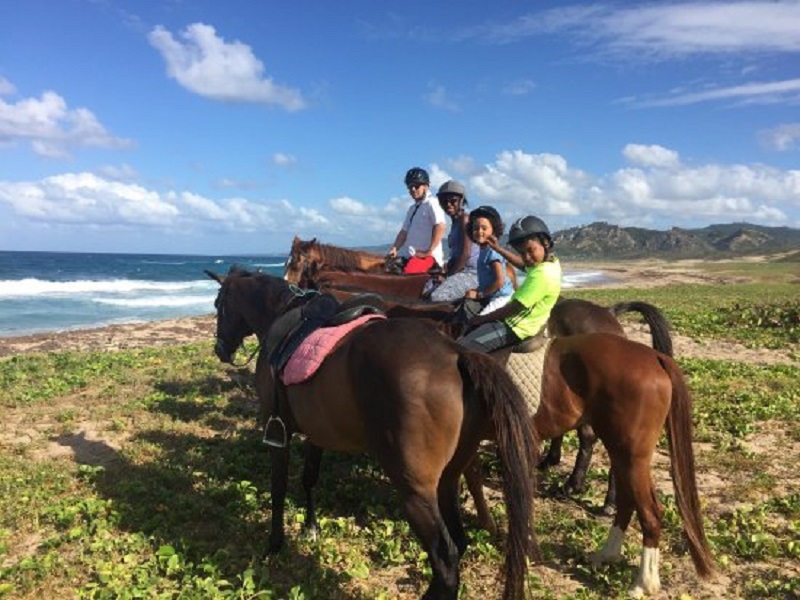 Credit: TripAdvisor.com
Barbados Ocean Echo Stables
The stables at Ocean Echo is one of the more popular riding tours in the country. The stable's location is Newcastle in the parish of St.John. Those who want a good time on the east coast of the island will work just fine. The cost per ride varies as the stable offers six different tours. The cost range from seventy to one hundred and fifty United States dollars. You can pay the equivalent in Barbados dollars, too, so no issues there.
Day tours and night tours are available if you are brave enough to do a moonlight ride. Rides range from one hour to three hours, depending on the one you want. Riders must be ten years or older, and only six persons can ride at a time. The recommendation for clothing is long pants and footwear that is enclosed. For more information, you can visit their website at www.oceanechoadventures.com.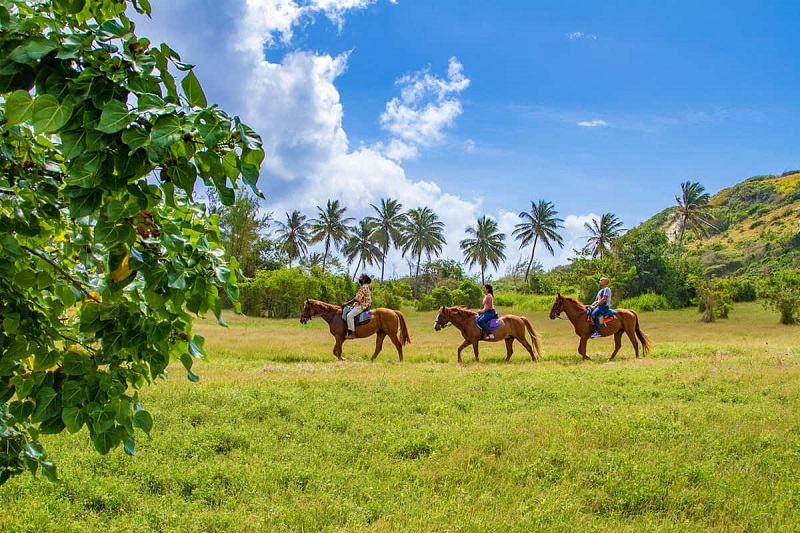 Credit: EliteHorseBlogSpot.com
Barbados Jahworks Stable
Jahworks Nature Walk Tours and Equestrian Centre's location is Farley Hill, St.Andrew. You can make arrangements for pick up if you so desire. This offer makes finding the site much more comfortable, but you can find it on your own if you wish. A qualified riding trainer runs the stables and is known for her equestrian skills.
The tour takes you through the beautiful Scotland District in the parish of St.Andrew. The ride offers patrons the opportunity to pick local fruits as you see them along the trail. The Morgan Lewis Windmill is another attraction you will enjoy seeing, so the ride is a fabulous one. In a later feature, you will hear more about Scotland District and Morgan Lewis Windmill.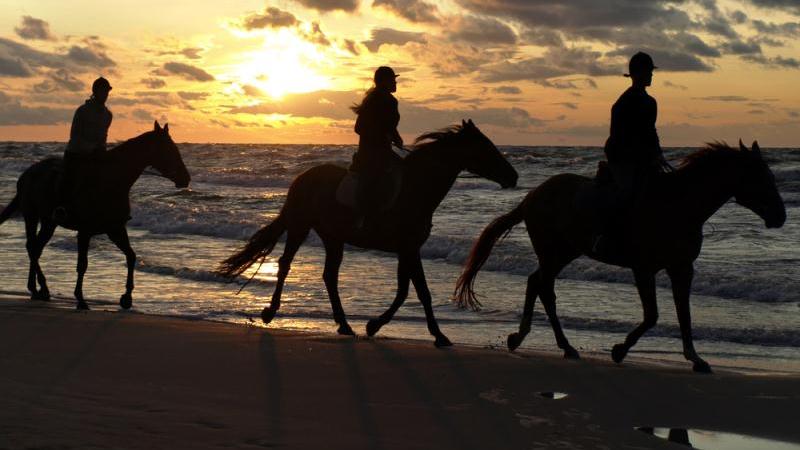 Credit: CaribbeanBlog
Barbados Caribbean International Riding Centre
The Caribbean International Riding Centre's location is Plantation, Benny Hall in the parish of St.Peter. This horseback riding company is another east coast option as well. You may have noticed that its place of establishment is close to the Jahworks site. The owner of this establishment has many accolades for her role as a judge for equestrian events.
You can have private lessons which will improve your riding skills, so that is something to consider. The tours allow you to view the east coast amazing views and enjoy trails full of lush vegetation. The riding tours will also travel to the beach, so you are guaranteed a good time.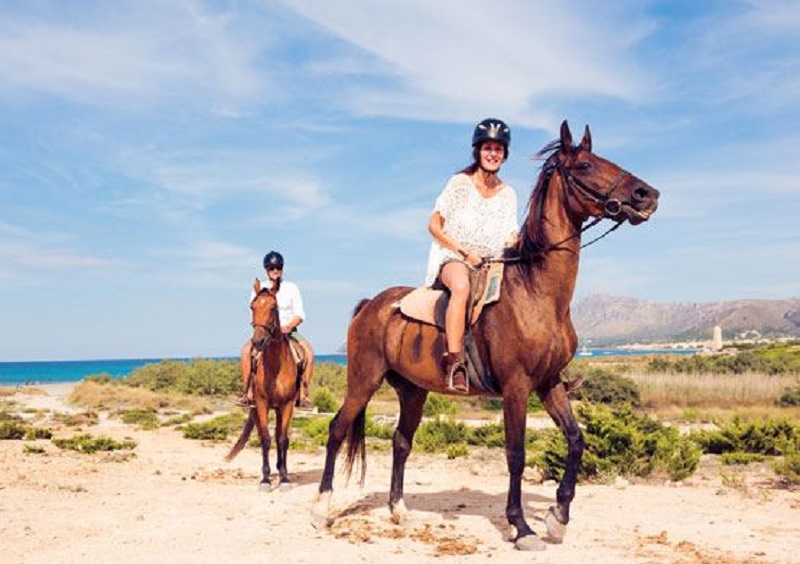 Barbados Cleland Equestrian Club
The Cleland Equestrian Club's location is Cleland Plantation,
St Andrew. They offer some lovely horseback riding tours through the east coast of the country. The stables provide two riding tours, the Cleland Equestrian Club Tour and the Cleland Adventure Tour. You may notice some similarities due to location, but the more choices, the better right?
The equestrian riding tour takes you through the same trails as the Caribbean International Riding Centre, the east coast/Scotland District area. The adventure option combines hiking and horseback riding. You must be six years or older to do the adventure. Riding attire is requested, and patrons can be collected if needed. Refreshments are also available so persons can have a drink and refresh themselves. You can find out more about Cleland Equestrian Tours by visiting www.clelandequestrianclubbarbados.com.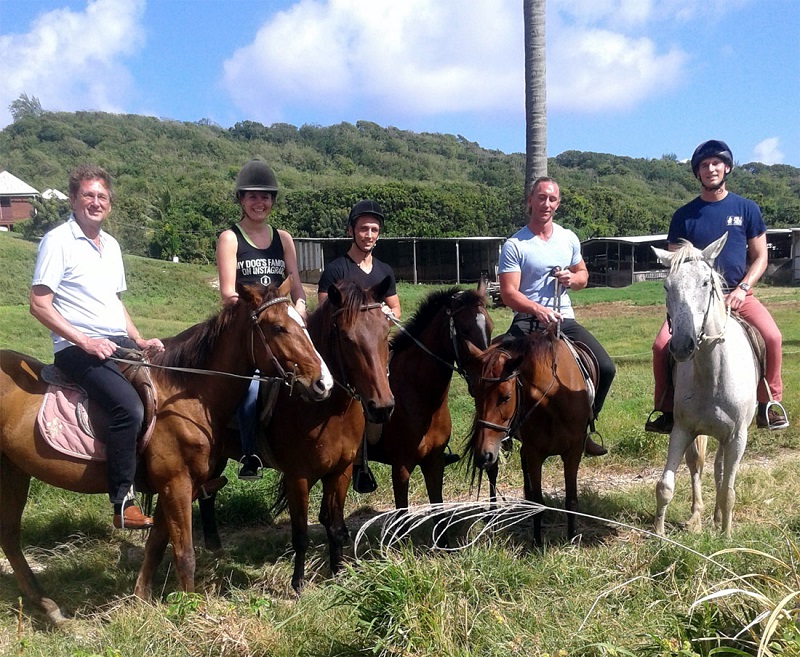 Credit: BarbadosCruiseExcursions.com
Horseback riding is a great way to learn more about this little island called Barbados. As you may notice, most of the better-known horseback riding stables concentrate their efforts on the country's east coast. The main reason is there is less traffic to contend with and more trails that allow the horses to be comfortable. There is also Barbados Island Beach Riding Excursions that allow persons to see more of this beautiful island. You can visit www.barbadoscruiseexcursions.com for more about their prices and tours.
If they are relaxed, you will be safe since nothing can startle them and cause an incident. The gorgeous views you will see while you travel through the hills are a genuinely fantastic experience. If you want to try Barbados horseback riding, choose from the above; you won't regret the tour and the friendly people you will meet. Mark this one on your calendar as an activity to do in Barbados.